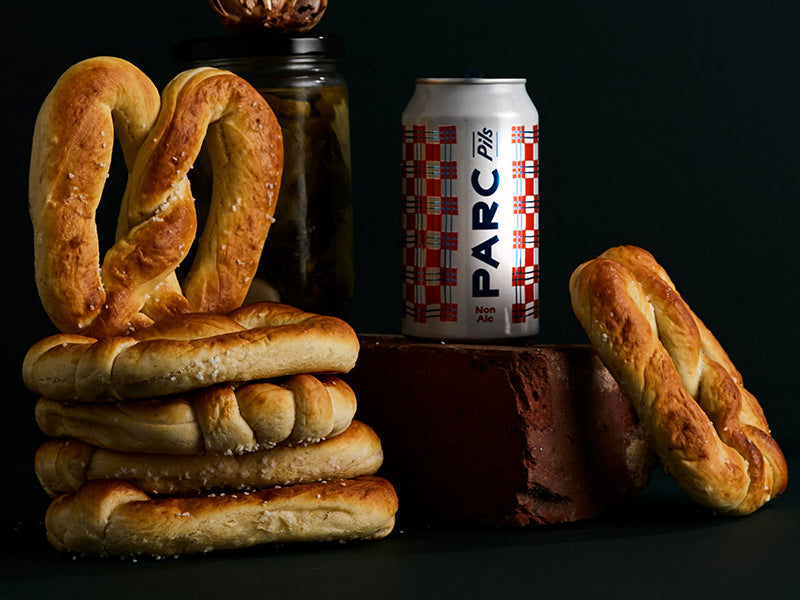 About 5 years ago, if anyone had uttered the words "non-alcoholic" and "beer" in the same sentence, they would have gotten some very strange (and potentially angry) looks.
But look where we are now! You're reading a blog post all about it! You might be sober, thinking about becoming sober, or are just curious about the world of non-alcoholic beers. Either way, we're here to enlighten and hopefully excite you about all the non-alc possibilities. This post is a deep-dive into Parc Pils; the new (beer-shaped) kid on the block, from the team at Monceau. We're going to be looking at the history of the pilsner and what makes it so special.
What is a pilsner?
We say that Parc is just like a classic craft pilsner, just minus the alcohol. But what does that actually mean? What is a pilsner? What makes it classic?
A pilsner is a type of lager made with pale malts. A lager refers to the kinds of beers that ferment in cold temperatures. In fact, lager used to be conditioned in cool, cool caves in order to stay before the wonderful inventions of refrigeration. From the lager, we get to a pilsner by adding some extra special hops (which we'll get to in a second).
There are a huge range of pilsner styles. Every nation around the world that does their own brewing probably has their own version of a pilsner. There's a special place for all types of pilsners in our hearts, but, like children, there's always a favourite. Ours happens to be the Czech style.
Where did the pilsner come from?
Like all good stories, it all begins one day in 1842, in the Pilsen region of the Kingdom of Bohemia—now part of the Czech Republic. Townsfolk came out of their houses to watch 36 barrels of their local ale, spoiled by a short shelf life, being poured out into the streets. Quelle horreur.
Determined for this to never happen again, the town's brewers employed a master brewer from Bavaria, Josef Groll, to teach them the German Lagering method of brewing, which allowed their beer to become both smoother and more long-lasting. The local water of Pilsen and Groll's experimental spirit led to a wonderful new style of beer which very quickly became one of the world's most popular beers and brought glory to Groll.
Glorious Josef Groll
But what is actually so glorious about the pilsner recipe?
It all comes back to those special hops we mentioned before. Noble hops are the all-important ingredient that add that little extra spiciness to the standard lager. Specifically, Saaz hops are the bad boys that make the Czech-style pilsner shine in our eyes. Saaz hops are notable for their special aroma, and the easy-drinkingness of their resultant beers. They're a bit of a goldilocks hop—well-balanced and warm-flavoured.
Like the pilsner, Saaz hails from the Czech Republic. They take their name from the Czech city of Žatec (which is called Saaz in German). The first evidence of hops grown in Žatec goes back to the 8th and 9th century. The city's climate seemed promising for the crop as the area had restricted levels of rain, mild temperatures, and good soil. From then, wild varieties of hops were selectively bred until the emergence of the one and only Saaz.
After being given the honour of an 'officially registered hop' in 1952, the hops sky-rocketed in popularity. However, growing Saaz hops is not the easiest ride, and understanding the difficulty of creating our wondrous hops makes us all the more grateful for them. The Saaz crop does not produce a large yield and it is not particularly strong at resisting mildew. The original Saaz crop had been modified 9 times in the years between 1952–1993, as growers attempts to make the crop more fruitful and accessible. Luckily, by 2009, more than two-thirds of the total hops production in the Czech Republic was Saaz. 
Enter Parc pils — a classic non-alc pilsner
Parc is brewed with Carapils and Munich malts, Saaz hops, ultra-low-alcohol yeast, and pure water. That's it! Parc is all the things we love about the flavour and character of the pilsner, with almost zero alcohol. How is a non-alcoholic beer made, you may ask? We simply use a specially formulated yeast that naturally produces beer with almost no alcohol, and a careful brewing method that doesn't allow the booziness to rise. Parc is as natural as these original pilsners, too, with no additives or tricks. 
Parc has that beautiful bright, golden colour we're looking for in a pilsner. It also has a wonderful herbal aroma, assisted by the classic Saaz hops that are known for their scent. To go along with that herbal aroma, Parc has quite a parsley/sage palate, which is perfect for cutting through spice and salty foods. Another thing we love about the classic pilsner that we had to replicate with Parc is the zingy mouthfeel. We want those sips to feel fresh and crisp and it is all aided by the pale malts. Parc is wonderfully savoury with minimal sweetness, light in body but full in character.
Wait. Is non-alcoholic beer ... healthy?
Parc Pils is the go-to craft beer when you're looking for guilt-free enjoyment! (And who, after all, is not in that market?) Not only do you not have to worry about any nasty additives, but Parc is also naturally low-cal and low sugar. With a drink this sessionable, it would be just plain rude to fill it with nasties.
We're so excited to share Parc with the world. We think it's got that real classic pils flavour, and we've got the surprised expressions of our various dads when they're told it's non-alc to prove it. When it comes to quality, you know a craft brewery will put the time and effort into everything they do. 
What time is Parc time, you ask? Well. Picnics have taken Australia by storm in the past couple of years thanks to a certain thing that rhymes with 'moronavirus'—the resurgence of the picnic might be one of the only upsides of that whole business. Some non-alc park sessions with Parc sound right up our alley. 
Craft beer is the best beer, so why not support your favourite little brewery from Melbourne, grab some ice-cold Parcs and enjoy the best pilsner sans alcohol?!