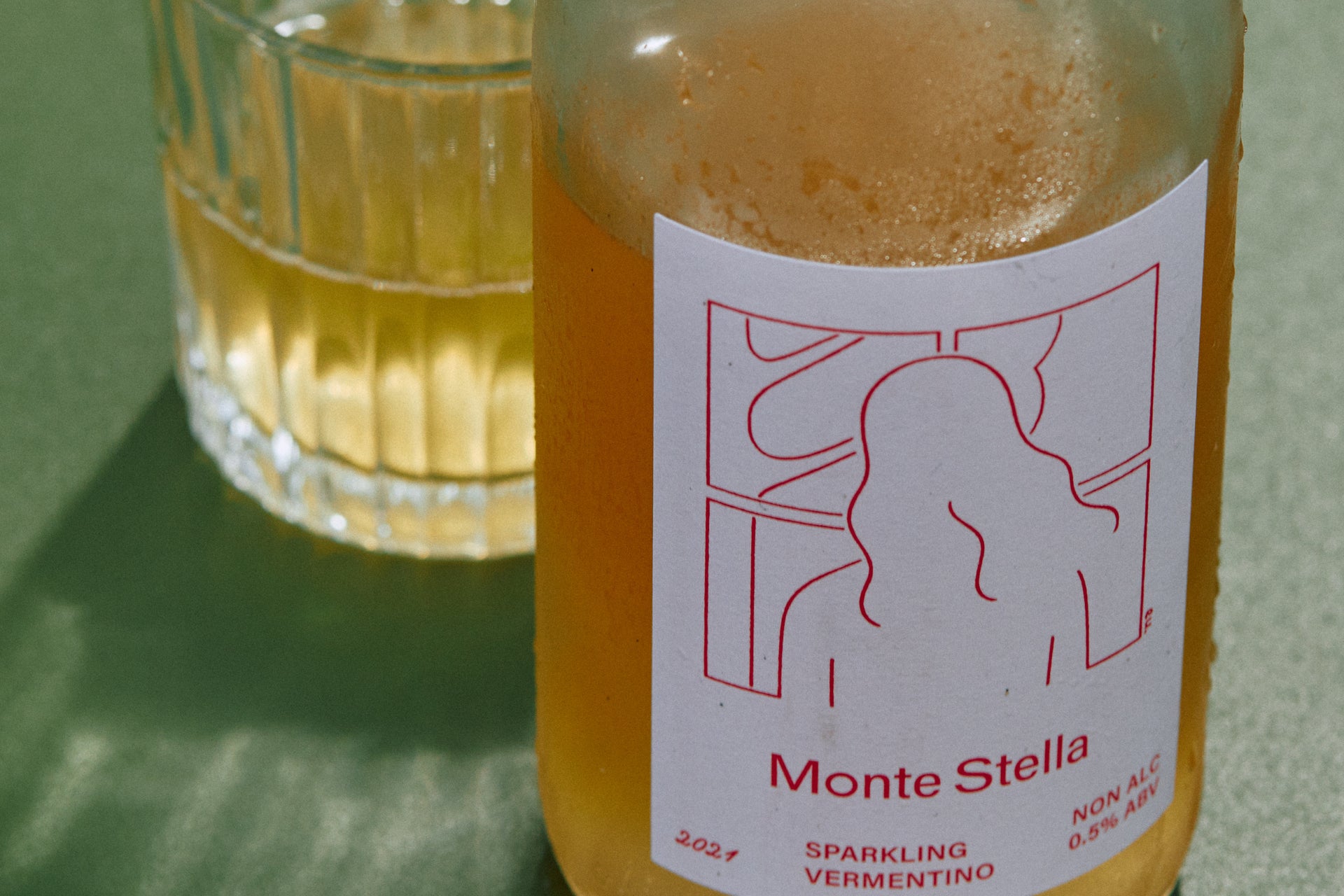 Team Monceau figured we'd finish 2021 off with a bang by introducing our newest experiment in the non-alc drink sphere. Monte Stella is here and she is our newest sparkling non-alcoholic love. If you know Monceau, you know that we love to push the envelope for what people can expect from a non-alcoholic beverage. We operate on the doctrine of minimal intervention, subtly coaxing natural fermentation processes to do their thang. Pét Nat Kombucha is where we started, and Monte Stella is our elevated next step. 
How is Monte Stella made? 
Monte Stella starts with grapes from the Box Grove Vineyard in northern Victoria. Sarah Gough at Box Grove shares our affinity for all things natural and sustainable. After seeing her grapes and tasting some of her brilliant wines, we knew it would be a great match for our non-alc wine alternative. 
We then take the grapes from Box Grove (Vermentino and Negroamaro are the two grape varieties we started with), and blend them with some organic tea. We then ferment the grapes and tea with an ultra-low-alcohol yeast culture. After letting the grapes and culture get to know each other and mingle, we then add verjus to the mix. Verjus is the pressed juice of unripened grapes. The verjus injects added acidity and brightness to the ferment. What you're left with is a drink reminiscent of a sparkling wine, just with less than 0.5% alcohol. By doing this, we maintain the wonderful character of varietal wine and simultaneously avoid the sickly sweet and artificial flavour of de-alcoholised wines. 
That's all there is to it! As per usual, we stay away from any preservatives and sulphites to ensure that we stay true to our mission for natural, healthy drops. 
What is a hybrid-ferment? 
Since, just like our Pét Nat Kombucha, Monte Stella is made in a way we've never seen done before, we needed a succinct and understandable way to describe the process. Monte Stella is a hybrid of tea culture ferment and natural wine grape ferment, hence the name 'hybrid ferment'. We found that a hybrid process combining the two resulted in that naturally ultra-low-alcohol-but-still-maintaining-wine-character essence.
Finding the perfect balance between the two cultures was definitely a long process of constant tinkering but we are really excited with the final product! The natural wine grape fermentation really allows the complex character of each wine grape to really shine through and is very similar to the wine fermentation process. On the other hand, the tea fermentation process helps keep those alcohol levels naturally super low. The tea fermentation gives us those subtle funky notes that we love from tea ferment and little tannins. Letting the wine grape and tea ferment sit together before adding the verjus lets the flavours really blend with each other before conditioning it all with the bright and puckish verjus of the young grapes. 
The Vermentino and Negroamaro are the two grapes we decided would be best to kick start the Monte Stella range. The Vermentino we love for its bright, light-bodiedness and wonderful citrusy notes. The Negroamaro is Vermentino's fruity and floral counterpart, the two of them offering an option for any varietal preference.
Creating Monte Stella has made us so excited to see what else we can do with fermentation. We're always in the brewery, tinkering with different styles, to try one up ourselves and keep producing exciting, innovative and interesting non-alc drops. The possibilities for fermentation are endless and we're on a mission to find the best that nature has to offer us.