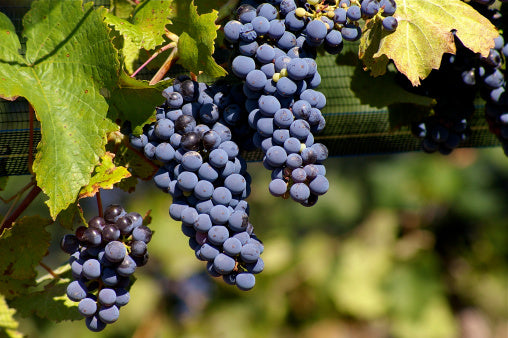 So hopefully by now you understand a little bit more about Monte Stella, and one of our two debut styles, Vermentino. We love Vermentino for it's light-bodied, citrusy, crispiness, however we knew we needed a bright, fruity and acidic counterpart to the Verm to kick start the Monte Stella line. Our friends over at Box Grove Vineyard once again came through with some incredible Negroamaro grapes to fill that position. In this blog post, we want to have a look at where this wonderful grape came from and what you can expect from both a traditionally made wine using Negroamaro and how that compares with what you can expect from Monte Stella Negroamaro. Finally, we'll offer up some delicious recipes that we think will convince all your friends that you're a non-alc wine aficionado.
The Negroamaro wine grape is originally from the southern part of Italy, Apulia. It's mostly found in the southern peninsula of Salento, found at the "heel" of Italy's boot. However, over the years the grape has travelled across the seas and found another home in Australia. Unfortunately the climate is just about where the similarities between central Victoria and the mediterranean stop, however we still feel lucky that such a delicious wine grape thrives locally.
Due to our unique hybrid-ferment process, our Negroamaro looks a little different to your standard Negroamaro red. Negroamaro takes its name from the Italian and Latin words for 'black' and 'bitter' so a typical Negroamaro red will have a very deep red colour and will often have a quite rustic character, defined by their earthy bitterness. The Negroamaro is dominated by dark, red fruits such as blackberries, cherries, plums and prunes. This gives it that added sweetness that makes it a perfect candidate for our fermentation dreams.
However, for Monte Stella, the hybrid of the tea culture ferment and the natural wine grape ferment not only gives our Negroamaro a translucent, light pink hue, but that lighter colour also translates to the character of the drink itself. Instead of a very deep colour and taste, our Negroamaro stays light and fruity. With the natural carbonation, our Negroamaro is a wonderful drink for your summertime picnics and get-togethers. 
We've gone ahead and picked out some recipes that we think will pair really nicely with Monte Stella Negroamaro. Whilst, typically, red wines are meant to be paired with meat, we say "to heck with tradition" and that such a unique drink such as Monte Stella deserves to create its own rules. 
To pay homage to the origins of this wonderful grape, we have to start with the starter that screams "Italy"; caprese salad. I mean, it literally is an Italian flag on a plate, how much more Italian can you really get? The combo of juicy heirloom tomatoes, creamy mozzarella and peppery basil really harmonise with the sweet fruitiness of the Negroamaro. 
You can find a good looking recipe for a caprese salad here (although we think it's pretty self explanatory)
Staying in Italy, but moving on to mains, we think a hearty roast eggplant pasta is another great option to pair with our Negroamaro. The sweetness from the grapes nicely offsets the slight bitterness from the eggplant and acidity from the tomato sauce. Again, we really think anything Italian will work beautifully paired with the Negroamaro (but actually will work beautifully full stop). Have a look at this super easy recipe and start inviting friends over for your home-cooked, locally sourced, Italian feast. 
For our last recipe pairing option, we're flipping the script again and opting for a less traditional pair of Negroamaro and fish. Some may say this is a culinary faux pas, however considering we're not totally keen on sticking to norms, we'll say "don't knock it 'till you try it". More specifically, we think the freshness of this grilled salmon recipe with lemon and garlic compliments the deeper character of the Negroamaro. 
Realistically, we'll drink Negroamaro with just about anything (or with nothing at all). That's the beauty of Monte Stella: delicious bubbles with zero guilt!