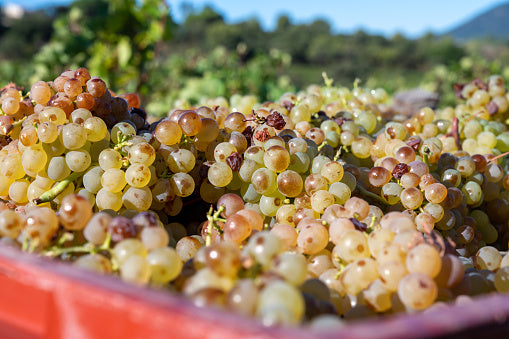 Monte Stella Sparkling Non-alcoholic is Team Monceau's latest experiment in expanding the options for a health-conscious drop. We wanted to see what we could do with wine grapes that didn't end up like your standard de-alcoholised wine. We found the de-alcoholised wines tasted very artificial and, of course, this totally goes against everything we're trying to do at Monceau. So we came up with our own hybrid ferment. Staying true to our fermentation roots, we experimented with natural wine fermentation and tea culture fermentation to come up with Monte Stella! 
When looking for the right kind of wine grapes to experiment with, we had two things in mind: first, we wanted to source them from a local, sustainable winery, and second, we wanted a red and white grape that both contrasted and complemented each other. So when we found Box Grove Vineyard in northern Victoria, and saw their diverse growing scheme experimenting with grapes from the Mediterranean region, we knew we'd found a winner. The Vermentino and Negroamaro were the grapes for us. In this blog post we want to cover all things Vermentino. We're going to look at the history of the grape, where it (allegedly) originated, it's characteristics and some great recipes that pair beautifully alongside it.
Vermentino wine grapes are wonderfully light-bodied and fruity. Their slight citrus flavour makes them a wonderful summer grape. If you're a fan of the Pinot Gris varietal, we think you're likely to get along very nicely with Vermentino. As mentioned above, Vermentino comes from the lucious and warm Mediterranean climate of Spain and Italy. Luckily for us, Vermentino is very easy to grow and stays incredibly resilient through drought which, for us Aussies, we're often unlucky enough to have to deal with. 
Since Vermentino has been around for longer than we have kept records, the origin of the grape has been long debated. Fun fact: you can now '23 and Me' grapes! Grapes have their own DNA that can be traced back to particular areas in the world. Crazy. According to these genetic tests, it seems the Vermentino either originated from the Liguria region of Italy (where the grapes are known as Pigato), or they originated from Hungary (where the grapes are known as Furmint). Unfortunately, we can't say exactly where they originated, however it's highly likely that they came from Italy first.
Another thing we love about using Vermentino grapes is that, when used in different settings, they can exhibit quite different characteristics. We love the versatility that using locally sourced fruits gives us with the flavours of Monceau, and the same applies to Monte Stella. Vermentino grapes create a light-bodied, citrusy wine that makes for some easy drinking. By combining the natural wine fermentation with an ultra-low-alcohol yeast culture, we end up with a drink that strongly resembles a glass of bubbly, with less than just 0.5% alcohol.
We love finding the best pairings for our drinks so here are 3 different recipes that pair wonderfully with Vermentino:
Spaghetti Alle Vongole 
Like many other white grape wines, our Vermentino makes a fantastic addition to any seafood meal. Since the Vermentino is (probably) originally from Italy, it just feels right to eat spaghetti alongside it.
Clams with white wine and spaghetti? *Chef's kiss*. Follow along this pretty straight forward Spaghetti Alle Vongole recipe. 
Mediterranean Roasted Artichokes
Sticking to the Mediterranean vibes, roasted artichokes will compliment the citrusy character of the Vermentino. This recipe really captures the beauty of championing an ingredient by simply roasting with some garlic, olive oil, salt and pepper. Some might say it's basic, we say it's classic. If it ain't broke, why fix it?
Fennel Salad
Fennel is a contentious vegetable; tasting so much like liquorice is going to mean you make a few enemies. However, for those of you who love the flavour, a shaved fennel and apple salad just like this one, will be the perfect side to snack on with your Vermentino. 
So there you go! Monte Stella Vermentino is the light-bodied, citrusy new addition to the Monceau family and we can't wait for you to try it out.