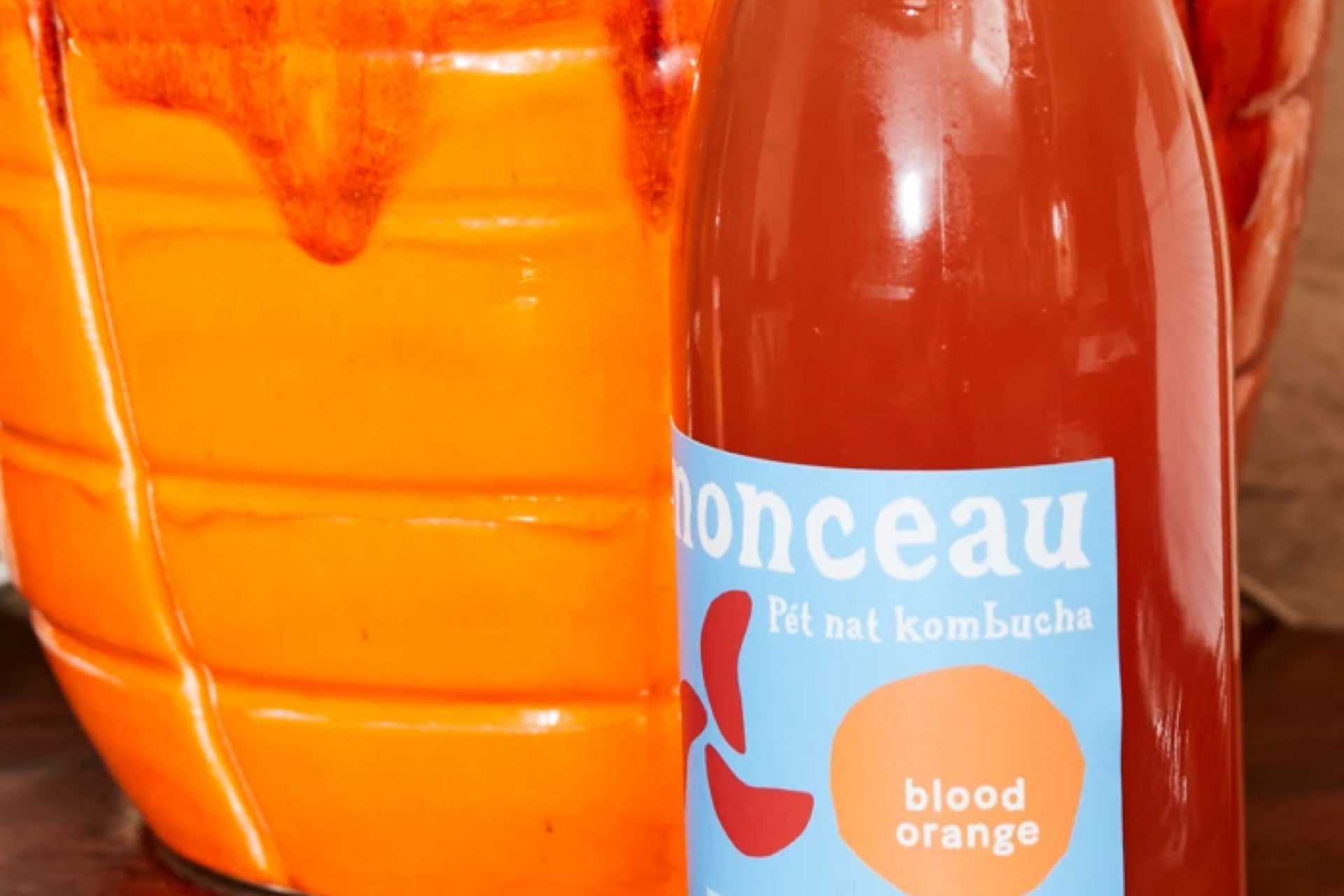 Why do we keep Monceau Pet-Nat Kombucha raw?
Monceau Pet-Nat is a 'raw kombucha' or 'live kombucha'—meaning that it hasn't had any of its living kombucha cultures killed off in production by high heat pasteurisation. Many commercial and supermarket kombuchas in Australia are subject to these treatments for a few reasons—but mostly to the benefit of the producer. Here's a few reasons why we've chosen to keep our kombucha live and raw.
1. It's all about the flavour of our kombucha.
Here's the biggest reason we keep our kombucha raw. We think the flavour of our raw kombucha is better without all the culture and flavour-death that heat treatment causes. 
Over the course of developing our range, we made hundreds of test batches with different permutations of organic tea, pure fresh fruit juice, and our SCOBY kombucha culture—all to land on a perfectly balanced, complex fermented beverage. There's a delicacy to the flavour of a kombucha like this, and an interplay between elements—the tart, citrusy, savoury, floral, sweet profile of our blood orange kombucha for instance—or the crisp, fruity, grassy, peary, dry profile of our pear kombucha. Everything has to be just so. And once it is, you can start to taste the slight seasonal differences between batches, depending on factors such as when the fruit is picked, or the undulating temperatures in our brewery. It's an adventure.
When you heat-treat a drink, you basically put it in a big vat (or put the bottles in a bath of water) and heat it to a certain temperature, holding it there for a while while it kills all live cultures off. This has the effect of stabilising the drink, but it also essentially cooks it, like a low boil or sous vide. Out of curiosity, we tried this process with some bottles of Monceau Blood Orange kombucha. The results were quite strange—the natural sugars caramelised a little, throwing off the pristine, fresh, brightness of our petillant natural product. 
Through all our brewing experiments, we've come to feel that the liveness of kombucha fermentation is one of its fascinating and delightful properties — and we want to bottle that up and get it to you unadulterated. That's why we make Monceau as a raw kombucha.
Here's another tip. We ferment Monceau right to the point where there's a perfect balance of natural sweetness and dryness before refrigerating. But taste is, of course, very subjective. While Monceau is already a bit more dry and complex than most kombuchas, some of our team (and customers) prefer it a little drier still. If you leave a bottle of Monceau out on the counter for a warm summery day or two—because it's a live kombucha—it'll ferment a little more of the natural residual sugars away, making it a touch fizzier and a little drier. Delicious!
2. There's health benefits too, but not necessarily the ones you think.
We always think of Monceau as more of a social drink: one to be shared and savoured like a nice glass of wine. With this in mind, we're less interested in it being something you force yourself to drink in order to improve yourself, but rather something that makes life more enjoyable — and something that happens to be really good for you. 
How is live kombucha healthy and good for you? Well, there's a few reasons that people often discuss, some with more scientific backing than others. The reasons with more sound backing revolve around a) the rich antioxidants that are found in kombucha from the tea and culture, b) the salubrious properties of kombucha's acetic acid, which has been shown to aid with inflammation and blood pressure, as well as being highly nutritious, c) more and more studies are being undertaken on the effect of probiotic foods, like raw kombucha, on issues from gut health to cardiovascular health; there are numerous notable studies that can be found online - we'll leave it to you to dig into those further if you like.
2a. Antioxidants
Antioxidants. You've probably wondered what they are, and you've probably previously read an article about them that began with 'Antioxidants. You've probably wondered what they are'—and then promptly forgot what it said. So strap in for another go on the merry-go-round: 
Antioxidants are substances that protect your body against damage done by free radicals, which are unstable molecules that cause infinitesimal havoc against the cells of your body.
Free radicals are missing some of their electrons, they steal from and damage other molecules in a process called oxidation, meaning good molecules lose electrons. And, what's worse, during this process free radicals create other free radicals, which recursively keep on with their unhealthy mission. Antioxidants, on the other hand, have extra electrons, and work by donating the extra electrons to the free radicals. This pacifies the free radicals, breaking the cycle and preventing them from attacking other cells in your body. It'd probably be possible to write this whole thing up as an analogical story of how a patient friend saves you from the havoc of a lousy needy ex, but I'm not going to do that. (It wouldn't be fair to free radicals, anyway—they are a complex sort of thing, with both good and bad properties.)
In any case: tea is a well-known source of antioxidants, and they persist in the fermentation process as the sweetened tea becomes kombucha. According to a number of studies, it's more effective to get your antioxidants from the food you eat and drink, rather than through industrially produced supplements. And thus, Monceau live kombucha is a great source of antioxidants.
2b. Acetic acids
Acetic acid is the stuff that offers kombucha the remarkable flavour it has. There are three acids in kombucha produced by the fermentation process, but acetic acids are by far the most prominent. It gives that lovely savoury-sour flavour we love in kombucha. (It's also the stuff that makes it taste vinegary if you let it kick on too long - a common mistake in home and commercial kombuchas.)
Acetic acid is healthy and wholesome because it's antibacterial, working to knock off bad bacteria like ecoli, listeria, and other nasties that are related to stomach upsets and worse. So if you're worried you caved to nostalgic craving and ate something that had been sitting a little too long in a tuckshop bain marie, it couldn't hurt to crack open a bottle of Monceau kombucha. The acetic acid might help ward off a little bug.
3. SCOBY Gratitude
Our final reason we brew Monceau kombucha to be naturally raw and live is more of a sentimental one. Industrial heat treatment is a helluva way to thank all the good kombucha bacteria cultures for creating such lovely fermented flavours—thank you, zap!